More people are foregoing a lengthy commute for working from home. Whether you are a full-time freelancer or the occasional telecommuter, working outside an office can be a challenge. What are the best ways to set yourself up for success? How do you stay focused and productive? And how do you keep your work life separate from your home life?
Create a proper workspace

It might be tempting to work from the couch or worst still from your bed, but having a proper work area will accelerate you into work mode. Set yourself up with a comfy, supportive chair, a spacious desk, PC and printer. Mentally you will feel empowered and you will, in the process, help prevent back and neck pain or worse RSI and other physical issues. Spending time to set up your workspace will allow you to work for much longer periods without fatigue.
Protect your workspace
Now that you have created your workspace you need to try to protect it from invaders! Try to keep pets, family, roommates out of this space and encourage them to leave you alone whilst you are working.
Dress like you are at work
Even if you won't be interacting with another person all day, it's important to dress for success. This will tell your brain that it's work time, not leisure time, and that will give you a lot more energy. You may also feel sluggish, sleepy, or unmotivated if you don't get into this mindset. Think about it, we have been conditioned over many years to get up and get out to work, when we don't leave our home environment it is very easy to slip into believing we are in leisure time.
Re-Learn how to work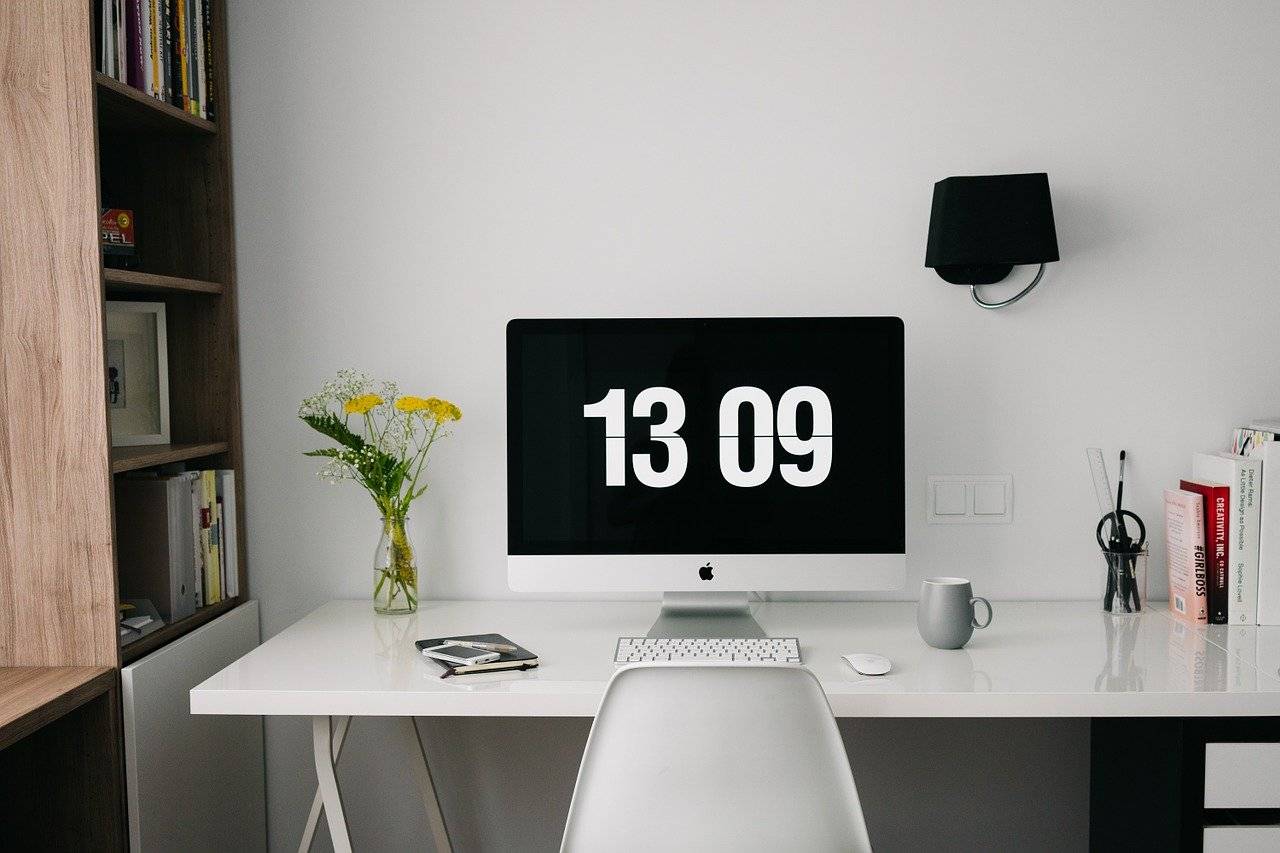 This might sound strange but learn how to work from home. One of the most important and basic things you can do is to create a regular timetable for yourself. It's tempting to give yourself total flexibility as to when you get started, take breaks, and call it a day. However, keeping your schedule consistent, setting regular hours keeps you accountable to yourself and to your team. Remember there are no visual queues to your attendance or your work status. Your bosses will naturally wonder what you are doing, it is up to you to improve their trust and confidence. Using Microsoft Teams is a great way to stay in touch with video calling, document sharing and collaboration.
Here are the important factors to consider when you're working  at home:
Publish your availability – Use your Outlook calendar to book out your regular meetings, but also book out your breaks, research times, group chats etc.
Communicate with your coworkers, customers and managers, regularly.
Find the time of day when you are most productive and make it known you are less available at those times.
Periodically issue out little titbits of productivity or what you are working on to give people indications you are engaged.
Using Teams or your companies preferred collaboration platform helps to knit the team together to produce quality outcomes without the need for face to face meetings
This doesn't mean that you need to work 9-5 every day. You should work when you're most productive. However, it's a good idea to find out when your boss or team really needs you to be at work. Keep yourself visible online and declare when you are otherwise engaged.
Keep work time and personal time separate
Just as it's important to work when you say you will, it's important to give yourself time for home life when you need it.
Don't extend the work day too far beyond what you planned, at the risk of burning yourself out.
Set boundaries for work and personal i.e switch off company phone after work, leave your work area when you are not working.
Find a way to indicate to your family when you are or not working.
Set an alarm for when work time ends. There are fewer indicators for close of business when working from home, no train to catch no traffic to miss. Artificially create them if necessary, travel time is still your personal time, do not give it up lightly.
The extra hours you may be ploughing into work because of no travel may have an adverse effect when you return to the office as the extra hours of productivity will be hard to replicate.
Don't forget your lunch breaks and tea breaks, make a point of taking them, go for a walk, do some yoga, talk to the neighbour. Your eyes and your body will thank you for it.
One of the most important working from home tips is to keep your work life and personal life clearly demarcated as it helps you stay productive while you're at work, and reduces stress when you aren't. In the same way that you set your work hours, schedule, communicate, and plan when you will not be available to work.
For example, if you like to take evenings to spend time with family, make sure you communicate that you aren't available for work during that time. And then hold yourself to that commitment!
Keep your work area tidy
Unlike in the office, you don't have a cleaner to clean up after you, which means you have to do it yourself. Keeping your home office clean helps you stay focused, get organized, and be productive. Even if you're someone who isn't bothered by a messy desk, keeping some semblance of order helps ensure that nothing important falls through the cracks (or gets lost in a stack of paper).
Stay connected
One of the best things about working in an office are the social interactions, the watercooler moments, the canteen conversations on trends activity and of course gossip. These are important, they give insight on the company both formally and informally. You don't have to lose this just because you are working from home. When you are learning how to work from home, try to check in with your coworkers at least a couple of times per week, whether by email, phone, Teams or even in person (socially distanced).
Make sure you keep up on a personal level, as well as a professional level. You can do this without taking a lot of time—just share the things that are most important, and encourage your coworkers to do the same.
Above all enjoy your newly found work life balance.